A Tale of Two Flooring Types: Laminate Flooring vs. Hardwood Flooring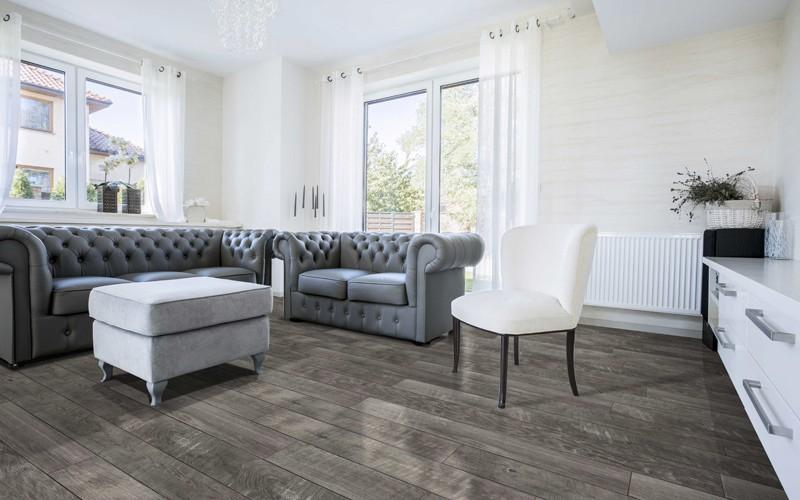 If you're like many of our customers, you might be struggling deciding between laminate flooring and hardwood flooring for your Calgary home. Actually, that's the most popular question asked of us in the showroom daily: which one is the better buy? The truth is, both are great flooring types and it really comes down to your personal preferences and lifestyle. To try to help make the decision easier for you, we're going to share some important information about both so you understand the major differences between hardwood and laminate flooring.
How Hardwood and Laminate Flooring Are Made
This is where you will find the largest difference between these two flooring types. While both materials require some processing, laminate is fully man-made and hardwoods are comprised of natural wood products.
How Laminate is Made
The core of laminate flooring is made of a composite fibreboard that is designed to be very durable. The surface of the planks is made up of multiple layers of synthetic material that has a design or colour printed and or embossed on the surface.
The Making of Hardwood
Natural hardwood is cut right from the chosen tree-type, and completely milled from the lumber. There are also engineered hardwoods, which are made from cross layers of plywood with a natural wood overlay.
Comparing the Two Where It Matters Most
You will find the biggest differences between hardwood and laminate flooring in this section. Depending on your Calgary lifestyle, you may find one more practical than the other.
What Laminate Can Handle
Due to how laminate is made, it provides a more durable surface than hardwood. Many laminate flooring products today come with finishes that protect the surface from moisture, fading and staining. Cleaning laminate flooring is as easy as sweeping or vacuuming for dust and damp-mopping as needed, yet are durable enough for solid washing when desired.
How Hardwood Measures Up
Natural hardwood has a softer surface that can be more prone to dents, scratches and moisture problems than laminate. While you are limited to where you can install hardwood, the surface can be refinished. In some hardwood styles, daily living wear enhances the look of the floor. When cleaning, it is very important to follow the manufacturer's instructions carefully and use only specified cleaners so you don't void your warranty.
Take Your Pick for Your Preference
Now that we've covered the major differences between hardwood and laminate flooring, we hope we have helped make your decision a little easier. The biggest things you should consider are the amount of traffic your flooring needs to handle, where the flooring will be laid and the amount of maintenance you're willing to do to keep your flooring beautiful. Cost is always a factor, but there are economical and premiere choices in both flooring styles. Still have questions? Contact us today at Flooring Superstores Calgary to talk about your options or stop in to our store to look over what we have to offer and compare them yourself.