How Armstrong Laminate Flooring is Transforming Homes and the Environment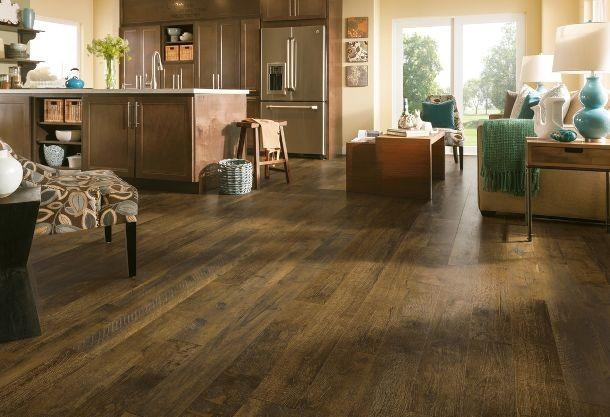 Laminate flooring has become more and more popular in recent years. Everyone wants the classic look of hardwood or ceramic tile but doesn't want the high prices or tedious maintenance involved. Laminate flooring comes in all different styles and colors that match the look of natural wood, ceramic tile or slate and is affordable and easy to take care of. Since laminate is highly durable, it can be used in high-traffic areas of your home in which hardwood may not be suitable. Armstrong laminate flooring is a top choice for homeowners for many different reasons.
Environmentally Friendly
Armstrong's laminate products are made with the environment in mind and exceed all requirements for health and safety. Laminate is man made, so cutting down trees is not required to have a natural wood look. No harsh chemicals are needed for cleaning and unlike hardwood, laminate never needs to be refinished.
Easy Installation
Armstrong laminate flooring can be installed in any room of your home. It can even be installed over existing wood, concrete, tile, or vinyl. So demolition is not required, saving you time and money. If you're a DIY type of person, laminate flooring can be installed easily over a weekend with Armstrong's "Lock & Fold" technology that allows each interlocking piece to snap together, so no nail guns or glue are necessary.
Variety of Styles and Colors
With dozens of different styles and colors, you're bound to find something you love for your home. Whether it's a traditional dark hardwood or a rustic farmhouse reclaimed wood, Armstrong laminate flooring has something for everyone. Each style has graining detail and authentic texture so no one will be able to tell the difference from the real thing. You can get a luxurious look of hardwood without the price tag or upkeep.
Durable and Pet-Friendly
Since laminate flooring is scratch resistant and sturdy, it's the perfect choice for households with pets. Messes are easy to clean with just a damp mop, so they are easy to maintain. Most Armstrong laminate flooring has warranties that typically last between 20 and 30 years, but if a plank or area were to become damaged, replacement is possible without having to redo your whole floor. It is recommended that you buy a few extra pieces to store for that very reason.
Flooring Superstores in Saskatoon has Armstrong laminate flooring in a wide variety of styles and colors, come choose one today!