Luxury Vinyl Tile Flooring – Your Ideal Flooring for Entrances, Bathrooms, & More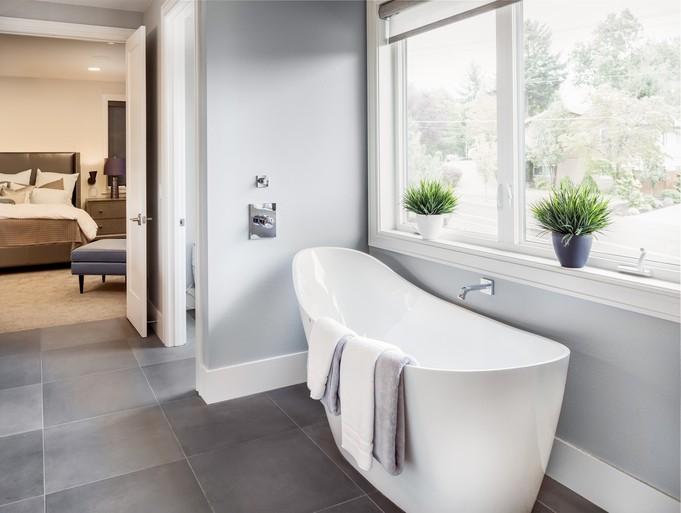 Tile will always be a classic choice for homeowners that are looking for a durable material that looks traditional and sophisticated in areas like bathrooms and entryways. However, tile can be expensive and tricky to install. Luckily, luxury vinyl tile flooring has the look and feel of tile at a fraction of the cost. If you are looking for LVT in Calgary, Flooring Superstores have everything you need to transform your home. Still not convinced? Let's take a closer look at the benefits of Luxury Vinyl Tile Flooring.
Easy Cleaning and Maintenance
When choosing a flooring material for a high traffic area like an entryway or bathroom, easy cleaning is a must. Luxury vinyl tile flooring is extremely low maintenance. Regular sweeping or vacuuming is all you need to do to for everyday cleaning, and a damp mop will take care of stickier messes. This cuts down on the need for expensive and bulky cleaning equipment and the use of potentially harmful chemical solutions. Be sure to ask the professionals at your local Luxury vinyl tile flooring store in Calgary if there are any brand specific care instructions for your floors.
Moisture Resistant
Luxury vinyl tile flooring is moisture resistant, making it a perfect choice for bathrooms. Liquid spills won't penetrate the surface, so even if you're not able to wipe it up right away, no damage will be done.
Easy Installation
Luxury vinyl tile flooring is extremely easy to install, making it a top choice for homeowners looking to replace their floors themselves. It can even be installed over existing flooring, eliminating the need for costly and time-consuming demolition. Don't want to install your own floors? Ask the experts at Flooring Superstores Calgary to install for you!
Wide Variety of Colors and Styles
Flooring Superstores Calgary has unique patterns, styles and colors to choose from if you're searching for a distinct look for your home. Whether you're looking for something neutral for an entryway or a bright color for a guest bathroom, you're bound to find the perfect luxury vinyl tile flooring for your home.
When it's time to update a large area like a kitchen, or a small entryway or laundry room, LVT is the perfect choice for your home. Come out to Flooring Superstores in Calgary for all your luxury vinyl tile flooring needs.